GretagMacbeth ColorChecker® SG
The GretagMacbeth ColorChecker® SG is a replacement for the ColorChecker® DC.
Description
The ColorChecker® SG consists of 140 squares of paint applied to paper then mounted to a cardboard backing with a black frame around all the patches. There are 14 columns and 10 rows of patches. All the patches have a semi-gloss surface, which is represented by the SG in the name (Semi-Gloss). The outer patches are a pattern of white, gray and black patches.
The ColorChecker® SG is offered in an 11 x 8 inches size.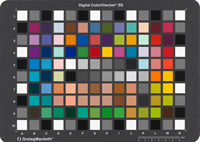 There is a 6 x 4 pattern of patches which correspond in color to the original ColorChecker®. The spectra and colorimetry of these patches are different from the original ColorChecker® so it cannot be used directly as a profiling substitute for a ColorChecker® without first making a new reference file by measuring this area with a spectrometer.
Just below this 6 x 4 patch area is another row of neutral patches. When combined with three additional gray patches in a nearby column the result is a 15 step neutral scale.
Spectral Data
The spectral data for the ColorChecker® SG may be downloaded from the Spectral Library. Using these files with the demo version of SpectraShop™ 4 will allow you to compare the spectra for the different editions and get colorimetric values for a large variety of viewing conditions.
Updated 27.4.2009
Back to Color Information table